Trade Signals by Autochartist
We are pleased to announce integrated Trade Signals by Autochartist is now available in the SaxoTraderGO trading platform:
Free of charge for all Saxo clients
Currently available on FX, Stocks and Stock CFDs*
Monitors and scans markets on your behalf
Alerts you to potential trading opportunities
Advanced chart pattern recognition
For experience traders
Ideal for all types of trader, Trade Signals identify both emerging and completed Support / Resistance, Chart and Fibonacci patterns across hundreds of instruments for trade inspiration or to reaffirm your own trade ideas and analysis.
Trade Signals also help you identify key entry levels and levels for stop losses and take profits.
New to trading?
Looking for an introduction to trading? Trade Signals is an important tool for new traders, introducing you to the world of chart patterns, levels of support and resistance and Fibonacci patterns.
Products
Trade Signals currently offers:
| FX | 50 major crosses including spot gold and silver |
| --- | --- |
| Stocks CFD | around 200 major US and European stocks |
| Stocks | around 200 major US and European stocks |
Additional instruments with be added continually.
Signals
Trade Signals currently identify:
Support and Resistance
Key levels of horizontal support and resistance, used by the majority of traders.
Chart patterns
Ascending Triangle, Descending Triangle, Channel Up, Channel Down, Triangle, Falling Wedge, Rising Wedge, Head and Shoulders, Inverse Head and Shoulders, Triple Bottom, Triple Top, Double Bottom, Double Top, Flag, Pennant.
Fibonacci patterns
3 Point Retracement, 3 Point Projection, ABCD, Gartley, Butterfly, 3 Drive, Head-and-Shoulders Butterfly.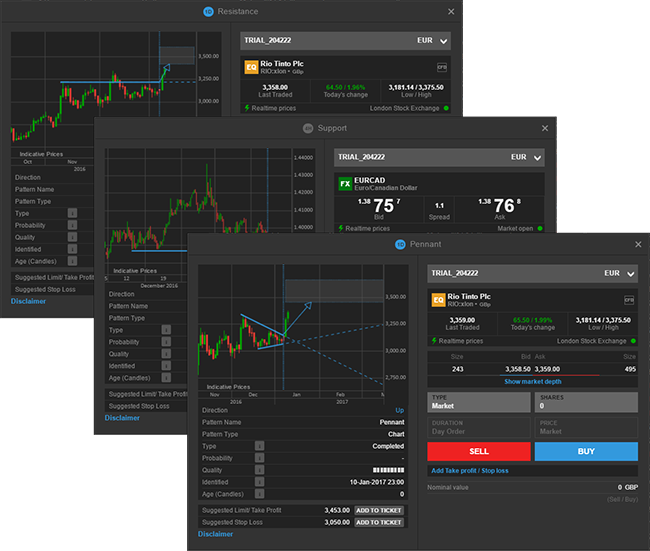 Signal Quality
For each signal, Trade Signals uses 5 indicators to measure the quality of chart patterns:
Clarity
Initial Trend
Volume
Uniformity
Breakout strength
Quality indicators reflect the visual appearance of the pattern and how well defined the pattern is within these parameters. High-quality patterns are well-proportioned and symmetrical and the overall quality measure is the average of all these indicators expressed as a range from 0 to 10 (highest quality).
Note that signal quality is not an assessment of the efficacy or an indication of the possible profits or losses you can expect from pattern.
Probability
Autochartist maintain extensive statistics around their signals summarized as a probability of success for each pattern. For each pattern type, the probability is evaluated over the past 180 days with respect to the specific instrument and the times of day they were identified.
Statistics are accessible directly through the Autochartist website and through a link in the platform.
NOTE: past performance is not indicative of future performance.
About Autochartist
Established in 2004, Autochartist has firmly established itself as the leading chart pattern recognition provider with a community of more than 50 000 traders in over 80 countries and offering well over 400,000 trade signals each month.
Saxo Capital Markets offers unprecedented levels of integration of Autochartist trade signals into its SaxoTraderGO platform with:
powerful screening for identifying signals of interest
trade ticket integrated with trade signal details for convenient access to trading
trade signals on instruments in your own Watchlists
trade signals on stocks on the exchange selected in the Equity Overview
And this is only the start. We believe Trade Signals by Autochartist is an important tool for both experienced and novice traders. It is our ambition to integrate and develop Trade Signals much further.
Disclaimer
* For Professional Investors only
Information regarding Contracts for Differences ("CFDs") contained herein does not constitute our advice or proposal to the clients to trade such product. Furthermore, please note that CFDs trading is only available to clients of Saxo Capital Markets HK Limited who are qualified as Professional Investors (as defined in the Securities and Futures Ordinance, Sch. 1 Part 1) and thus may not be applicable to you.

For most bonds, in particular corporate bonds, bid and offer prices are not public available and transparent, as the majority of trading takes place outside regulated marketplaces. Bonds are traded OTC with Saxo Capital Markets as counterpart, and OTC trading conditions apply. Please see Saxo Capital Markets' execution policy for further information. None of the information contained herein constitutes an offer or an attempt to offer to purchase or sell a financial instrument, or to make any investments. Saxo Capital Markets HK Limited is not responsible for and not liable to any loss arising from any investment based on any recommendation, forecast or any other information contained herein. Leveraged investments in foreign exchange or derivatives can be speculative and carry a high degree of risk which may result in significant gains or losses. Investors should carefully consider their financial situation and consult their independent professional advisors as to the suitability of their situation prior to making any investments.

The technical analysis, like any and all indicators, strategies, columns, articles and all other features, accessible through this platform (including those from Autochartist) is for information purposes only and should not be construed as investment advice. Technical analysis is obtained from sources believed to be reliable, but Saxo Bank Group does not guarantee its completeness, accuracy, or any results from the use of this information.

Your use of the technical analysis tool, as with your use of any and all mentioned indicators, strategies, columns, articles and all other features, is entirely at your own risk and it is your own responsibility to evaluate the accuracy, completeness and suitability of the information. You should assess the risks of any trade with a financial adviser and make your own independent decision(s) regarding any tradable products which may be the subject matter of the technical analysis or any of the said indicators, strategies, columns, articles and all other features.

Please also be advised that if any of the said technical analysis or any of the said indicators, strategies, columns, articles and other features accessible on/through this platform is found to be advisory or a recommendation, the content is in any event provided with the intention of being for general circulation and availability only. As such it is not intended to, and does not form part of any offer or recommendation directed at you specifically, or have any regard to your investment objectives, financial situation or needs of yourself or any other specific person. Before committing to a trade or investment, please seek advice from a financial or other professional adviser regarding the suitability of the trade for you and where available read the relevant product offer/description documents, including the risk disclosures. If you do not wish to seek such financial advice, please consider carefully whether the product is suitable for you as you alone remain responsible for your trading gains and losses.

Trading risks are magnified by leverage – losses can exceed your deposits. Trade only after you have acknowledged and accepted the risks. You should carefully consider whether trading in leveraged products is appropriate for you based on your financial circumstances.