Trade FX Options with Saxo
Our proposition to FX options traders is truly unique given the depth of our product offering, the quality of analytics we provide, and the level of service we make available to our clients.

Why trade FX Options with Saxo?
Flexibility: Get full electronic access to trade vanilla options with maturities from 1 day to 12 months, providing you with maximum flexibility to implement your trading strategies and market views.
See more
Quality analytics: Access a professional set of reports with live updates that provide a detailed analysis of FX spot and option positions across multiple currency pairs.
Stay in longer: Take comfort in the certainty that existing FX positions can be fully hedged at a guaranteed price, whilst also benefitting from participation in favourable market movements depending on what happens to the spot price over the life of the option.
Responsible leverage: Benefit from our tiered margin methodology as a mechanism to manage political and economic events that may lead to the market becoming volatile and changing rapidly.
See more
Risk management: Get more alternatives in relation to risk management and use FX options as an alternative to stop loss orders.
Experience and expertise: Benefit from Saxo's extensive experience and access a wide range of educational resources available through our webinars and trading academy.
See more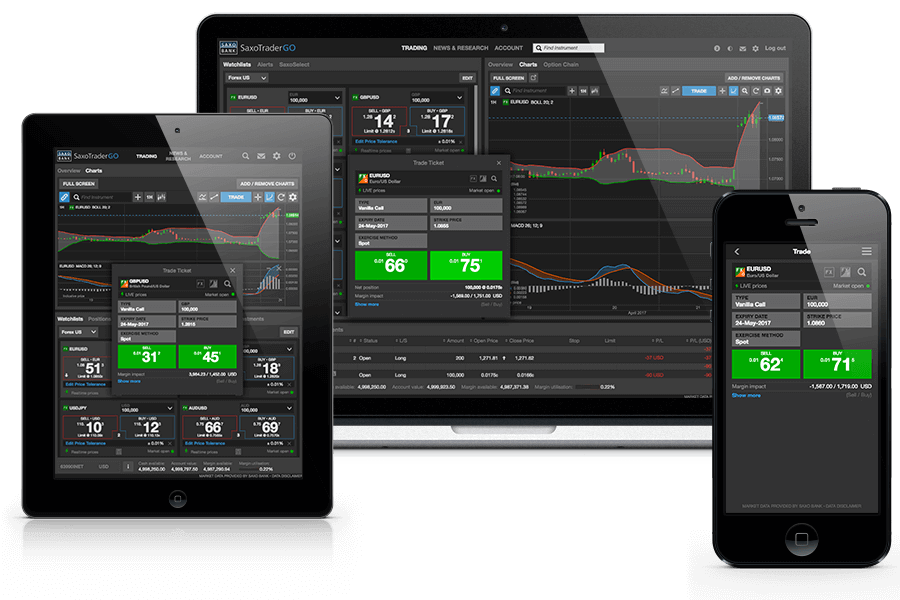 Trade FX Options online on an award-winning trading platform
Change the way you trade with Saxo
Expertise
We share the views of our strategists on daily market-moving events, and support traders with educational webinars, research tools and financial data.
Partnership
Saxo Group is the professionals' choice - supplying trading and investment solutions to over 100 large banks, brokers and financial service providers around the world.
Security
We offer the stability and security of a regulated broker, exceeding some of the toughest global standards for financial services.
Support
Through our local sales and service organisation, we serve clients in more than 180 countries and provide regional phone support 24/5 whenever markets are open.
Trusted around the world
Saxo Group has received wide-spread industry recognition for its FX offering, its platforms and its services.

FX Options Risk Warning
An option is categorised as a red product as it is considered an investment product with a high complexity and a high risk.
Saxo Capital Markets is required to categorise investment products offered to retail clients depending on the product's complexity and risk as: green, yellow or red. Please refer to our "Product Risk Categorisation".
Trade responsibly
Losses can exceed deposits on margin products. Please ensure you understand the risks.