Trade listed options on an award-winning platform
Access 1,200+ listed options from 23 exchanges worldwide, across equities, indices, interest rates, energy, metals and more.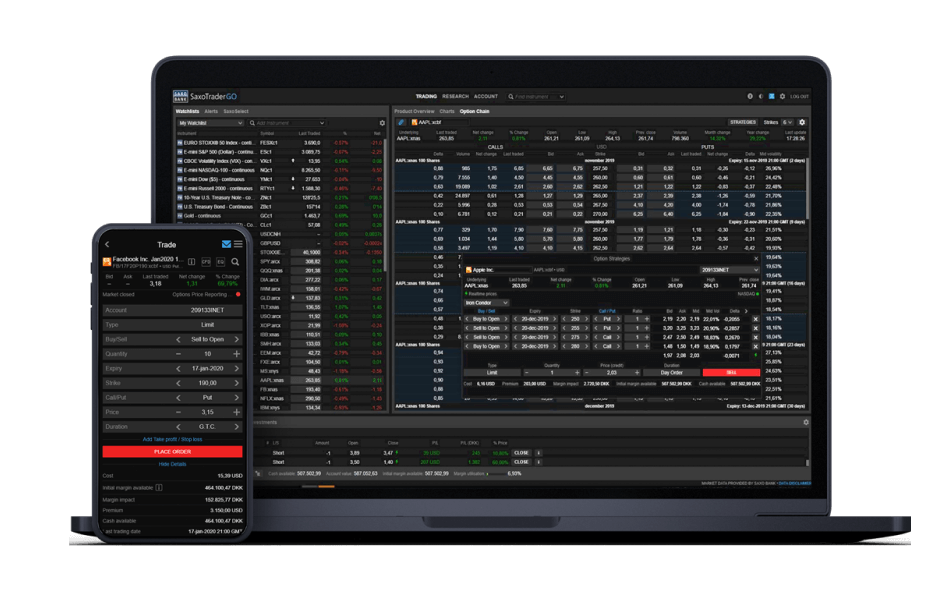 Why trade listed options with Saxo Markets
Ultra-competitive pricing

Trade stock options from USD 0.85, EUR 1 or GBP 1.

Access 1,200+ listed options

Trade listed options on stocks, indices, interest rates, energy, metals and more across 23 exchanges globally.

Advanced options tools

Take advantage of our option chain functionality, combination order tickets and one-click trading.

Expert service, trusted for 25 years

With 800,000+ satisfied customers, Saxo Group offers world-class service around the clock.
Ultra-competitive option commissions
We offer three levels of pricing depending on your account tier.
Swipe left or right for more
| Contract | Classic | Platinum | VIP |
| --- | --- | --- | --- |
| AUD | 7.00 | 3.00 | 1.00 |
| EUR | 4.00 | 2.00 | 1.00 |
| GBP | 3.00 | 2.00 | 1.00 |
| SGD | 15.00 | 7.50 | 3.00 |
| USD (Cash Index Options) | 4.00 | 3.00 | 1.50 |
| USD (Future Options) | 4.00 | 3.00 | 1.50 |
| CHF | 8.00 | 4.00 | 1.50 |
| JPY | 1000.00 | 800.00 | 700.00 |
| NOK | 65.00 | 35.00 | 20.00 |
| SEK | 75.00 | 40.00 | 15.00 |
| CAD (Full-sized contracts) | 6.00 | 3.00 | 1.00 |
| HKD (Mini contracts) | 45.00 | 30.00 | 20.00 |
Receive lower prices as you trade more with our Platinum and VIP account tiers. Learn more
Trade listed options on our award-winning trading platform

Trade listed options on our award-winning trading platform

One-click trading
Open or close your option positions with just a single click for faster, more efficient trading.
Robust option chain
View all puts, calls, strikes and pricing information for a given maturity period, with customisable views and columns, including Greeks and volatilities.
Combination order ticket
Deploy a multi-legged option strategy by simultaneously placing orders to buy and sell from the same order ticket.


In our platform you can subscribe to a range of news providers as well as live market data from various exchanges. For more information, click here.
Whether you're new to trading or looking to refine your knowledge, we have a range of educational videos and online courses that will suit your needs.
In addition, our experts run a series of webinars to help you broaden your understanding of equity trading and seize market opportunities.
Our expert strategists regularly post news, analysis and commentary to help you stay one step ahead of developments in the market.
You can access their posts on the 'insights' section of our website, or directly through our trading platform.
24-hour expert service
24-hour expert service
Whether you're a high- or low-volume trader, you'll receive first-class support tailored to your needs.
Integrated digital support
Access our self-service support centre, email helpdesk and a range of educational courses.
24-hour customer service
Get support for technical matters and account queries whenever markets are open.
Relationship managers and sales traders
Active traders benefit from a dedicated point of contact and access to our world-class trading experts.
Exclusive VIP services
Receive our very best prices, priority support and exclusive event invitations.
Trusted for more than 25 years
Trusted for more than 25 years
Fully regulated
We adhere to the strictest regulatory standards, and are fully licensed and regulated in 15 jurisdictions across Europe, the Middle East and Asia.
Financial strength
We're a financially stable company with a robust balance sheet. We serve clients in 120 countries, hold USD 16bn in AUM and process 1m transactions daily.
Multi-award winner
We've been consistently recognised by our industry and have won the highest accolades for our products, platform and service.