How the French election will impact equity markets
The interests of voters and investors are not always aligned, and the difference between them often creates the explosive fuel behind eruptions in financial markets (take Brexit, for example).

It's a new year and the terrain features many new political landmines, with the French election potentially being the most deadly of them all.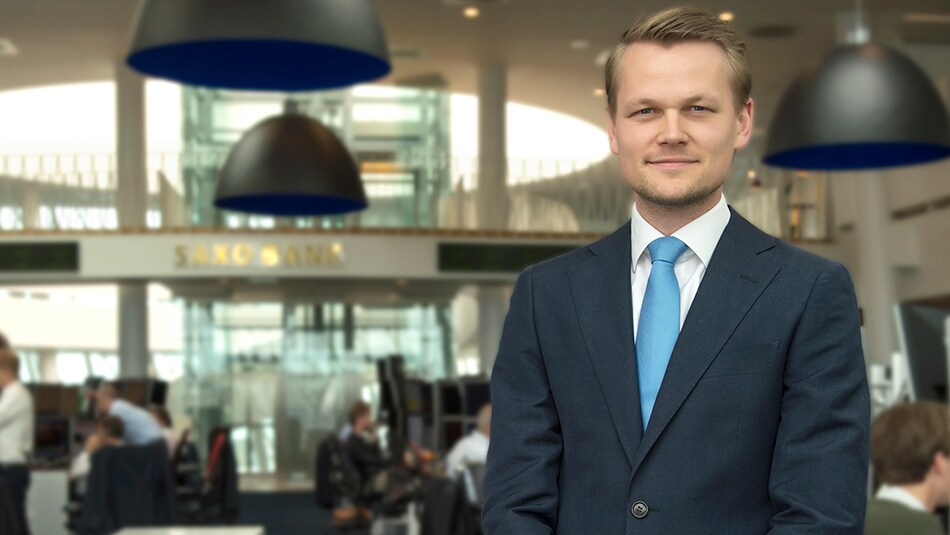 Peter Garnry – Head of Equity Strategy

Macron the market's favourite
Looking at how markets are reacting to polls in France, it's obvious that investors want Emmanuel Macron to win the election as he is seen as the less-extreme candidate. He is also the most pro-European of the candidates and hopes are high that he can modernise the French economy. Critics would say that his stint as economic minister under the Hollande administration, however, was less impressive.

If Macron wins, which we believe is the most probable outcome, it could be the catalyst that closes the 20% valuation premium between US and European equities. Since the beginning of 2016, outflows from funds with European equity exposure cumulatively add up to around $100 billion. If Macron wins, capital will flow back into European assets – including equities – as the political tail-risk will have been reduced.

The euro's trade-weighted exchange rate should also see a considerable uptick on a Macron victory.

The French stock market over the past five years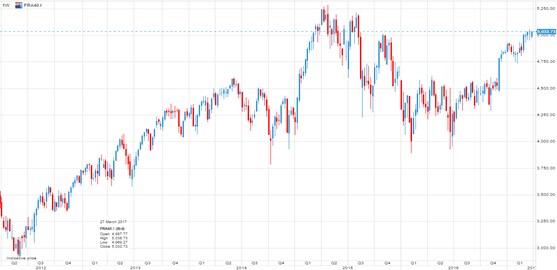 Source: Saxo Bank
The German game-changer
If a Macron victory would result in a more optimistic Europe, one potential second-leg to this would be a Martin Schulz victory in the German election later this year. Both politicians are very pro-European and their victories could represent a game-changer for the European Union. A Greek haircut, for instance, could easily be on the table, alongside more flexibility on the fiscal budget (whose ratio to GDP is expected to come in at minus 1.9% in 2016… much lower than the US' minus 3.1%).

Historically speaking, tight Franco-German co-operation has been the key driver of Europe's political momentum. An EU led by Macron and Schulz, then, could reaccelerate European integration – for better or for worse.

Europe needs to place more focus on direction and less on speed. The direction should be towards fixing the inherent flaws in the Eurozone framework and perhaps allowing euro bonds to be issued for a small proportion of the union's GDP. In addition, a Macron-Schulz Franco-German consensus could focus on closing the gap between the North and South as failing to do so would lead to catastrophic end results.


If Marine LePen wins we could easily see European equities lower by 10-20%
Peter Garnry – Head of Equity Strategy at Saxo Bank
Le Pen's risk of contagion
Coming back to the French election, the worst outcome would be a Le Pen victory. If the Front National leader wins, France will set its course towards leaving the euro and pursuing a much more nationalistic policy, likely luring Italy down the same avenue.

Unfortunately, this path will lead to chaos and short-term turmoil both politically and economically. Under this scenario, we could easily see European equities head lower by 10-20% alongside significant reductions in economic and earnings forecasts.
Italian populism and euroscepticism is already on the rise and investors are taking note, pushing the country's five-year credit default swap to a three-year high at 177 basis points.

Only a Macron victory and better economic fundamentals in Europe can derail the populist momentum in Italy. Nobody should doubt that Italy is too big to fail and if Rome pursues the United Kingdom's Brexit strategy it would lead to immediate Eurozone disintegration and eventually to other peripheral countries leaving the euro project.

Politically speaking, 2017 is a very interesting year, and the French election is an enormously important frontier in the battle against disintegration and populism.

Dutch voters have sent Europe a very clear signal and if French voters end up fending off populism as well, investors and politicians will breathe a collective sigh of relief before Germans head to the polls on September 24.