Order-driven-trade-execution-oct-2016
Page Content:
​​​​​​​​Saxo boosts liquidity and transparency while extending client control with the launch of new order execution model for FX and CFDs
The new model, being released globally from October, is an example of Saxo's ongoing commitment to deliver best practice solutions for our clients by empowering them to take control of their trading.
In addition to offering executable prices, the new order model will include further enhancements so clients have greater control and transparency over their orders. These include allowing for partial fills, user-defined price tolerances, and the potential to benefit from price movements if the market moves with you within your tolerances.

Overview & Scope
The way that Saxo executes client trade requests is changing from a Quote Driven Model (green pricing) to an Order Driven Model (Quick Trade).  This will apply to FX Spot, FX Forwards and CFD Indices, Commodities, Interest Rates and Bonds. FX Options will continue to trade on a Quote Driven Model.
With the introduction of order driven execution, the trade button colours in the trading platforms will use a new convention where red will be used for sell buttons and blue for buy buttons (as already used in SaxoTraderGO when placing orders). This means that under normal market conditions, the trade buttons in the Trade Ticket and the Trade Board will be red and blue instead of green.

What is an Order Driven Model?
An Order Driven Model provides an executable price provided to Saxo clients that is based on Saxo's own liquidity, in addition to liquidity available on a DMA basis in the broader market. The client is provided with greater control over the way that their order is traded through user-defined Price Tolerance.
An Order Driven Model may result in partial fills, but under normal market conditions a Market IOC order will be filled in full immediately.
Why is Saxo changing to an Order Driven Mo​del?
To be more transparent in the way that Saxo handles client orders. Early adoption of best practice and the forthcoming release of the FX Global Code are the key drivers in defining ourselves as a transparent and responsible FX and CFD trading provider.

To extend the breadth of FX liquidity available to our clients. Saxo will be able to connect to a broader set of market venues (i.e. ECNs) that typically only operate under an Order Driven Model.

Removing the 'Liquidity Mirage' by not showing a top of book price to all clients simultaneously but rather representing a price that must be dictated based on order size and liquidity available in the market at that time.

Better alignment of FX Spot/Forward and CFD Indices, Commodity, Interest Rate and Bond products with the order execution methodologies of other asset classes.

To enhance FX functionality with the introduction of partial fills, user defined tolerances and price improvements. Offering our clients greater access, transparency and control helps to continue to democratise investment and trading.​


Notable changes include:​
FX Spot and FX Forward execution defaults to a Limit IOC (Immediate-or-Cancel) order, providing you with greater control over the way that your order is traded through a pre-defined Price Tolerance

Price Tolerance on a Limit IOC order defines the minimum (when selling) price differential or the maximum (when buying) price differential that you are comfortable accepting. For FX Spot and FX Forwards, the default is set to 0.01% of the Spot price for all currency pairs, but it is configurable on an individual currency pair level

To extend the breadth of FX liquidity available to you, we will be able to connect to a broader set of market venues that typically only operate under an Order Driven Model. This means that it will be quicker and easier to get your orders into these venues

Introduction of partial fills for FX Spot and FX Forwards

Execution in all other product types defaults to a Resting Market order and you may experience positive or negative price movements. Resting orders may further be subject to partial fills.

Change to the colou​​r of the trade tiles 


Price Tolerance
The new Price Tolerance-feature provides an effective way to mitigate risk of unexpected volatility. Your order limit IOC order will only be executed if a price can be obtained within your pre-defined price range, with any execution price improvements being passed on to you.
The Price Tolerance feature is applied by default for FX Spot and FX Forwards, but can also be applied when trading CFDs, Futures, Futures Spreads, Stocks and ETFs.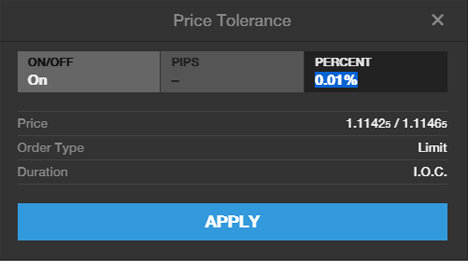 This feature allows you to define a price-range where you are comfortable with the order being executed. Depending on the instrument, Price Tolerance is expressed as a distance in pips, ticks or percentage points.
As seen below, by removing Price Tolerance, the Trade Ticket will convert the order type to a Market IOC order for FX Spot and FX Forwards, and a Resting Market order for all other product types.



Potential Price Improvements
With our Order Driven Execution, your traded instrument is subject to price movements. Price movement - either positive or negative - are always passed on to you as and when they occur.
If the price moves against you, the specified price tolerance ensures that the order is only executed if it is within the pre-defined price-range. There is however no guarantee that orders can be fully or partially executed within the specified tolerance.
See examples of Price Tolerance and price improvements, and learn more about Order Driven Execution in the PDF brief below. 
Title: New order execution model for FX and CFDs