Client-Selector-in-SaxoTraderGO-march-2017
Title: Client Selector in SaxoTraderGO
Page Content:
The Client Selector is now available in the SaxoTraderGO platform for Introducing Brokers, allowing authorised dealers to:
Search and select client accounts
Place trades and orders on behalf of clients
Monitor client accounts - seeing the same performance and reporting as the client
The Client selector is accessible from the 

icon in the top right corner of the SaxoTraderGO platform and allows you to search for clients by:
Client ID
Client Name
Account number
The Client Selector also has a Recent section for quick selection of clients that have recently been selected.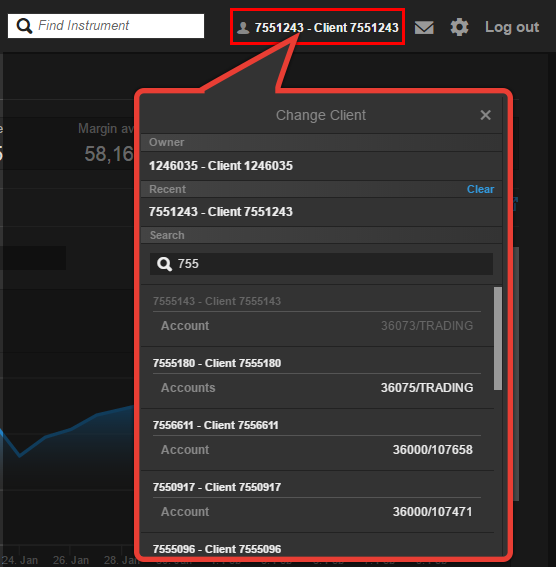 The owner-level account can be selected at the top of the selector so it is always possible to get back to the top-level owner ID.
When a client is selected, the platform displays the client's:
Account details in the Account toolbar
Positions in the position list
Orders in the Orders list
Performance and reports in the Account tab of the platform
Note that prices in the platform will be your own price subscriptions and may not be the same prices the client sees if the client has subscribed to live prices for example.
Authorised dealers
Authorised dealers who currently have access to trade on behalf of clients now have access to the Client Selector through the SaxoTraderGO platform.
Authorised dealers are able to place and manage trades and orders for selected clients as well as monitor the client's performance and account. 
View only access
Users who currently have access to WebConnect to monitor client accounts can now access www.saxotrader.com/Monitor (or partner's URL/Monitor) and use the Client Selector to select and monitor clients.
These users can access the Account section of the platform for monitoring clients account only and are not allowed to trade on behalf of clients. Items such as cash transfers and price subscription management are also hidden.