Earn reward points with every qualifying trade
Collect reward points to qualify for account upgrades, including enhanced pricing and monitor your points balance in real-time.
Unlock better levels of pricing and service as you collect more points
Classic

Competitive entry prices and
best-in-class digital service and support.

Tight entry prices

Expert digital service and support

24/5 technical and account support

Platinum

Receive up to 30% lower prices, priority
support and much more.

Up to 30% lower prices

Expert digital service and support

24/5 technical and account support

Priority customer support
How does it work?
Your loyalty is worth rewarding
0 Points
0 Points
120,000 Points
120,000 Points
500,000 Points


To say thank you for trading with us, you'll earn reward points every time you place a qualifying trade.
Collect enough points and you'll upgrade to our higher account tiers, which offer you improved trading conditions.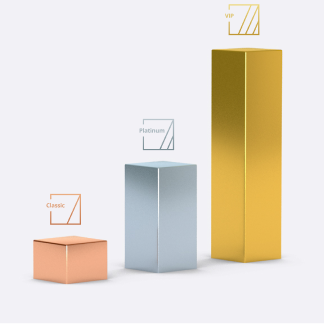 Trade
Volume
Points

FX spot trade

EUR

10,000
30

Stock trade

EUR

10,000
160

CFD single stock trade

EUR

10,000
180

Bond investment

EUR

10,000
320

How to earn points

You'll earn reward points every time you place a qualifying trade, with different asset classes and trade sizes worth a varying number of points. You can also earn points for other activities, such as adding funds to your account, attending events or referring friends.
Frequently asked questions
You don't need to do anything. As you're already a Saxo client, you'll automatically join our loyalty programme, for no extra charge.
When Saxo Rewards launched on Saxo Rewards Launch Date, existing clients remained in the same tier they were in immediately prior to the launch. If you're a new client, your initial deposit will determine your account tier. Initial funding of £500 will secure entry to the Classic tier, £200,000 to the Platinum tier, and £1,000,000 to the VIP tier. The upgrade will be effective two working days after the balance in your Saxo account reaches the qualifying level (e.g. £1,000,000 to attain VIP status).
To qualify for an upgrade, you'll need to earn a specific number of reward points, defined by the tier you want to join. We base qualification to a tier on the number of points you've earned this month, and in the three previous months.
For example, any points earned in January will not be included in the points total from 1 May.
When you qualify for an account tier, you'll receive a rolling 12-month membership. That means if you continue to meet the rolling points criteria of your tier, your 12-month membership will roll over as well. If you ever drop below the qualifying points criteria, you'll have a 12-month grace period before we'll move you to a lower tier, giving you time to build up your reward points again.
After your account has been open for 30 days, you'll receive points for the total average assets under management (AuM) of your account. This refers to the total value on your account, including any cash deposits and open positions.
Your reward points are calculated based on the monthly average AuM, and you'll receive your points two trading days before the end of each month.
An average AuM of EUR 10,000 for example, would earn you 250 Reward points every month.
Please note that we will not include AuM in our calculations during the first 30 days of your account being open. Rather, during this period we will factor in net funding into the account, as outlined above.
If you don't meet the points criteria of your tier, we won't move you to a lower tier immediately. Instead, you'll enter a 12-month grace period. This means you can continue to enjoy all the benefits of your current account tier for at least another 12 months.
This should give you time to collect enough reward points to qualify for your current tier again. If you do, your rolling 12-month membership will start anew. We will only consider moving you to a lower tier if you're unable to meet the points criteria of your tier at any time during the grace period.
Points are credited to accounts automatically on a daily basis, so please allow 24 hours for points you have earnt to be reflected in your account.
Your Saxo Rewards tier is strictly personal to your own client account and is non-transferable. Abuse of the Saxo Rewards program inconsistent with the purpose and intention of the program (such as gaming with and/or exploiting any unintended technical limitation) may lead to:

The clawback of any Saxo Rewards points credited to you that may be deemed ineligible; and/or
You being disqualified from the Saxo Rewards program and your benefits being withdrawn from you.

Saxo reserves the discretion to determine what behaviour or activity constitutes misuse of the Saxo Rewards programme, and may require you to indemnify it for any losses and/or damage arising from such misuse.
Saxo reserves the right to modify the Saxo Rewards programme, including these terms, at any time. This includes (but are not limited to) changes such as:

Tier qualification requirements and/or conditions;
The type of benefits accruing to the various tiers (as applicable);
Validity duration of Saxo Rewards points; and
Special features, offers and/or promotions (as applicable) that may be available to various tiers

You accept that you are responsible for keeping yourself updated on any changes that Saxo may implement to the Saxo Rewards programme from time to time.