Trade flexibly with CFDs
Contracts for Difference (CFDs) allow you to go take advantage of the markets whether they are rising or falling. Combined with our tight spreads and low margin requirements, trading CFDs with Saxo provides you with maximum trading flexibility.

Change the way you trade with CFDs
Access 9,000+ CFDs across Indices, Single Stocks, Commodities and more
Lower pricing for Active Traders including single stock CFDs from £5 per trade (see all rates and T&Cs)
Use Stocks, ETFs or Bonds as margin collateral
Fixed spreads on major indices during the main trading hours*
Low margin requirements and up to 100x leverage on selected indices
Direct Market Access (DMA) on Single Stock CFDs
see all rates
Open account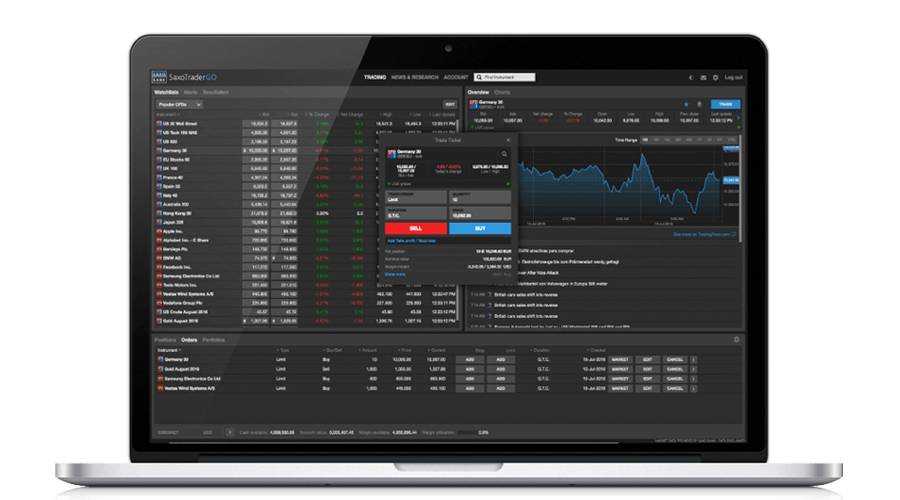 Lower prices for Active Traders
Execute 100 trades or more per calendar month on Single Stock CFDs, ETFs and Stocks, and you could qualify for an Active Pricing Package with competitive rates on all tradeable instruments including single stock CFDs from just £5 per trade.
Fixed spreads on Indices
Experience consistently low spreads when trading CFD indices during the main trading hours. For the most popular indices, the Bid/Ask spread will be equal to the minimum target spread in approx. 99% of the quote updates during the opening hours of the underlying cash market.*
Intraday Margin on Indices
Take advantage of reduced margins on our most popular indices with Intraday Margins. With margins reduced by 50% you have twice the trading capacity when trading indices such as the UK 100, Germany 30 or US 500 during the index's intraday session.
Smart Order Routing
We execute CFD orders via SORs (Smart Order Routers), which are sophisticated algorithms placing orders across multiple venues in order to achieve the best result. To minimise market impact and improve quality of execution, SORs execute across regulated markets (Exchanges), MTFs and other liquidity venues.
Direct Market Access
Access to Single Stock CFDs with Saxo are transparent and benefit from significant underlying liquidity, given that the hedging is always executed on a pure Direct Market Access (DMA) basis, where all orders are routed to regulated markets and other liquidity venues via smart order routing. Commissions may vary from a non-DMA setup.
Algorithmic Orders
Algorithmic Orders are especially useful for larger or more advanced stock orders. They use algorithmic equations to independently execute order transactions most efficiently, according to your chosen strategy. They can also break down an order into smaller parts to avoid showing the full size of the order.
---