Saxo introduces Saxo Rewards, first proprietary multi-asset trading and investment loyalty program in Australia
Saxo is the first broker in Australia to launch its own interactive loyalty program powered by big data where traders and investors can earn rewards through trading activities across multiple major asset classes
With a clear tiering system, sleek interface, highly personalised program and real-time updates, the scheme is the most comprehensive and transparent on offer within the investment space today
SYDNEY, 19 May 2020 - Saxo Markets, the leading Fintech specialist focused on multi-asset trading and investment, today launched Saxo Rewards, a highly personalised loyalty program powered by big data that offers smart, real-time engagement for traders and investors trading across major asset classes such as CFDs, FX, Stocks and Bonds.
The interactive rewards scheme, now available to all clients in Australia, unlocks future benefits such as more attractive pricing - as low as AUD 6.99 to trade AU shares, or USD 3 to trade US shares. Clients will earn reward points every time they place a qualifying trade, with different asset classes and trade sizes worth a varying number of points. Thanks to the large range of asset classes and geographies available in which to trade, diversification is available for Saxo clients in the one account, providing one singular view of risk.
"Investors and traders in Australia are generally tech savvy and sophisticated, so Saxo Rewards is really a response to the evolving preferences of our client base and a desire to reward them for their commitment to us. We are filling a gap in the space for clients who are looking for a more engaging experience from their online broker via a loyalty program that offers them long-term value," said Adam Smith, CEO, Saxo Markets Australia.
"COVID-19 has introduced significant volatility into global markets, and as a result Saxo has seen an increased demand from clients seeking an opportunity to access international equity markets at a competitive price. Saxo Rewards is part of a longer term strategy to deliver enhanced products and services to our clients. With Saxo Rewards, we are going beyond the standard rewards-for-trading-style schemes currently available in Australia, as we want to do more for our clients to create a true win-win relationship," Smith said.
Seamlessly integrated into Saxo's world-class trading platforms across all devices, clients can easily log in to see points accrued and which tier they belong to – Classic, Platinum or VIP - each determined by their current level of commitment and engagement in terms of funds, trading volume and other activities. Capitalising on Saxo's AI and big data capabilities, the loyalty program is able to translate trading volumes into points in real time, automatically "levelling up" clients to Platinum or VIP when they achieve this status. More enhancements will be rolled out in phases.
"This level of transparency and complexity is unique in this market for a trading and investment loyalty program. Saxo's world class technology and big data capabilities, as well as our extensive global multi-asset offerings, mean we've been able to launch a program similar to the familiar and more sophisticated airline loyalty schemes," Smith added.
What traders and investors can expect from Saxo Rewards: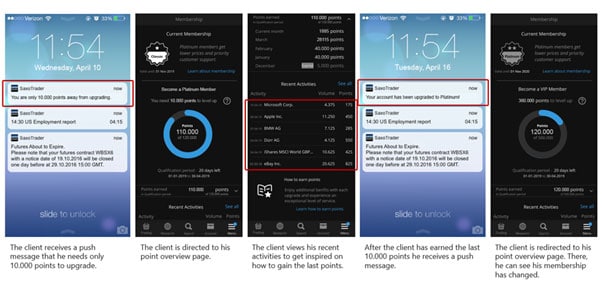 Real time, transparent and intuitive client experience on the new Saxo Rewards.
A transparent and intuitive user experience: Powered by AI and big data analysis, clients will see, as clearly as possible and in real time, which tier they are in, and what they have to do to upgrade or avoid being downgraded. This empowers traders and investors to understand and take control of securing and maintaining the lower costs and other benefits available in the best possible tier which they can reach.
Consolidate trading activities for more savings and rewards: Clients can secure better rewards by consolidating their trading and investment activity with Saxo, as rewards apply to all clients trading across major asset classes. Active traders and investors can also continue to enjoy very attractive pricing and earn points for different activities and trades across different asset classes. The full point catalogue can be found here. Future updates to the program will also see new and improved ways to earn reward points and progress through the loyalty tiers.
Get tips and inspiration to move to the next tier: Clients are able to view their recent activities to get inspired on how to gain points to advance to the next tier, which could translate into attractive savings for active traders.
Enjoy value beyond trading volume: Non-trading activities such as referring friends to Saxo and attending a Saxo event will, in the future, reward clients for engaging in other value-adding activities. This holistic approach provides more impetus for clients to do more with Saxo and be rewarded even for non-trading activities, in turn providing a better investing experience.
For more information on Saxo Rewards, please visit:
https://www.home.saxo/en-au/accounts/saxo-rewards. Existing clients can log on to their Saxo account and start exploring under the new Saxo Rewards section.
Founded in 1992, Saxo Bank was one of the first financial institutions to develop a online trading platform that provided private investors with the same tools and market access as professional traders, large institutions and fund managers.
Saxo offers clients around the world broad access to global capital markets across asset classes, where they can trade more than 40,000 instruments in over 25 languages from one single margin account.
Saxo Markets Australia is known locally for its broad range of asset classes and international market access, as well as a seamless and personalised platform experience that connects traders, investors and partners to global FX, CFDs, Stocks, Options, Futures and more from a single account.
The Saxo Bank Group holds four banking licenses and is well regulated globally. In Australia, Saxo Capital Markets is licensed and regulated by the Australian Securities and Investment Commission (ASIC) as a share trading platform.
The Saxo Bank Group also powers more than 135 financial institutions as partners by boosting the investment experience they can offer their clients via its open banking technology.
Headquartered in Copenhagen, Saxo Bank's client assets total more than 80 billion USD and the company has more than 2,000 financial and technology professionals in financial centres around the world including London, Singapore, Amsterdam, Shanghai, Hong Kong, Paris, Zurich, Dubai and Tokyo.
For more information, please visit: https://www.home.saxo/en-au.
Saxo Bank Group (Saxo) is a leading multi-asset trading and investment specialist, offering a complete set of trading and investment technologies, tools and strategies.
For almost 25 years, Saxo's mission has been to enable individuals and institutions by facilitating their access to professional trading and investing through technology and expertise.
As a fully licensed and regulated bank, Saxo enables its private clients to trade multiple asset classes across global financial markets from one single margin account and across multiple devices. Additionally, Saxo provides institutional clients such as banks and brokers with multi-asset execution, prime brokerage services and trading technology.
Saxo's award winning trading platforms are available in more than 20 languages and form the technology backbone of more than 100 financial institutions worldwide.
Founded in 1992 and headquartered in Copenhagen, Saxo employs more than 1500 people in financial centres around the world including London, Singapore, Paris, Zurich, Dubai and Tokyo.