margin-rate-changes-ahead-of-the-US-election
Title: Margin rate changes ahead of the US election
Page Content:
​​​​​On Tuesday, 8 November, the US electorate will go to the polls to decide who will be the next leader of the world's largest economy. Due to expected uncertainty in the market, there is potential for heightened market movements, including possibilities of significant price gaps and periods of illiquidity. 
In advance of the US election, Saxo Group is raising margins for a selected group of products as of Thursday, 3 November, 2016 at 13:00 GMT. As part of our mission to provide responsible margin rates for traders, we are increasing margins to protect against the potential high volatility, rapid price movements or gapping that may occur in the market during the lead-up to this event.
While the level of volatility is hard to predict, there is no doubt that the outcome of the US election, and especially if it is a surprise outcome, can lead to rapid price movements in certain stocks and indices, but also to a lesser degree in certain FX pairs.
It is our policy to ensure that our margin requirements correctly reflect the market risks at any given time. We believe that risks at this point in time may be heightened by the general anti-establishment mood and an emerging trend of protest votes.
Analysts may be dismissing Trump's chances, but the UK's game-changing vote to leave the European Union in June has crystallised the anti-establishment mood and one should not underestimate the parallels in the protest vote between Trump and Brexit.  In addition, markets will most likely soon turn their attention towards Italy and Prime Minister Matteo Renzi's referendum on Senate Reform, which is already a cause of concern for both the EU and investors alike.
In light of this and given the prominence of exposure to the US economy in many trading strategies, we want to ensure that traders take advantage of trading opportunities with responsible leverage.
Similar margin changes were implemented last June, to prepare traders for heightened volatility surrounding the UK referendum (Brexit) and help them mitigate their risk. The results were notably positive, with Saxo's clients showing gains despite the increased market volatility.
To see the upcoming changes to margin rates and collateral requirements for your customers' margin profiles, please go to Account – Margin and Collateral Changes in the trading platform. Upcoming changes related to the US election will be visible latest by Tuesday, 25 November.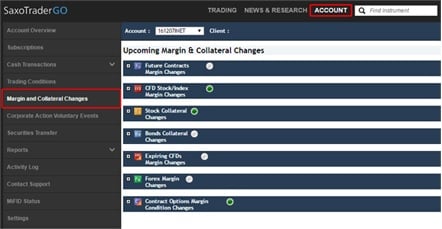 If your end customers have open positions in any of the affected markets, please assist in ensuring that such are monitored carefully and that your customers maintain sufficient funds in their accounts to meet the increased margin requirements during this period.
In addition, please keep the following in mind during periods of potential market volatility:
Market liquidity may vary substantially, and trade/quote requests may be unavailable at times as existing resting orders and new market orders are filled as priority
Market orders are not guaranteed to be filled at any specific price – they will be filled "at best" according to available market price when processed
Stop Loss orders are converted to Market orders once triggered, so are not guaranteed to be filled at your stop order level – gaps in available liquidity can result in significant slippage on Stop orders
Buying options (i.e. puts to protect long positions and calls to protect short positions) could be a hedging vehicle suitable for market uncertainty such as the US Election since the Strike price is fixed in advance
Traders should be familiar with placing orders and initiating trade requests on the platform
Placing relevant resting orders well in advance of the US election should be considered
Saxo will communicate the margin rate changes to its direct retail clients and IB end-clients on 24 October. 
Our dedicated US election landing page on TradingFloor.com offers new content daily focusing on actionable strategies, which you can share or use as inspiration for your own marketing materials.
The US election campaign material is also available on our Institutional Marketing Portal.
​

Please note that we will be informing Saxo's private clients and IB end-clients about these changes on Monday 24 October. Until then, Please keep this communication confidential and for internal use only.