Trade Signals by Autochartist - new markets now available
We are pleased to announce the addition of Trade Signals on a number of new instruments and markets:
New Equity market added to Autochartist Trade Signals
We have recently added the constituents of the main Spanish stock Index Ibex 35 to our Trade Signals offering. You can trade both the cash stock and the CFD on daily time interval.
Below the full list of instruments covered and time intervals on Trade Signals
55 FX pairs incl. Gold and Silver spot.
15 min to daily time intervals
250 single stocks and CFDs
Daily time interval
• US (100)
• Germany
• UK
• France
• Denmark
• Switzerland
• Spain
• Holland
Major US and European Index CFDs
15 min to daily time intervals
• US 500
• US 30
• US Tech 100
• Germany 30
• France 40
• Netherlands 25
• EU Stocks 50
• Ibex35
• Belgium 20
• Portugal 20
• Swiss 20
Signals
Trade Signals currently identify:
Support and Resistance
Key levels of horizontal support and resistance, used by the majority of traders.
Chart patterns
Ascending Triangle, Descending Triangle, Channel Up, Channel Down, Triangle, Falling Wedge, Rising Wedge, Head and Shoulders, Inverse Head and Shoulders, Triple Bottom, Triple Top, Double Bottom, Double Top, Flag, Pennant.
Fibonacci patterns
3 Point Retracement, 3 Point Projection, ABCD, Gartley, Butterfly, 3 Drive, Head-and-Shoulders Butterfly.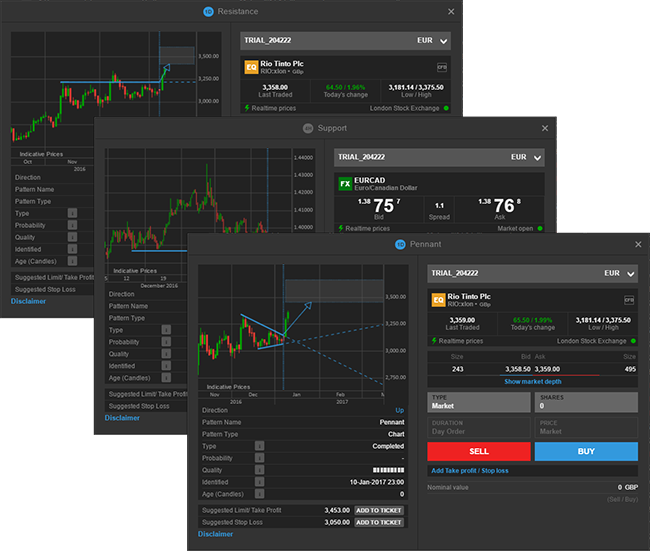 Signal Quality

For each signal, Trade Signals uses 5 indicators to measure the quality of chart patterns:
Clarity
Initial Trend
Volume
Uniformity
Breakout strength
Quality indicators reflect the visual appearance of the pattern and how well defined the pattern is within these parameters. High-quality patterns are well-proportioned and symmetrical and the overall quality measure is the average of all these indicators expressed as a range from 0 to 10 (highest quality).
Note that signal quality is not an assessment of the efficacy or an indication of the possible profits or losses you can expect from pattern.
Probability
Autochartist maintain extensive statistics around their signals summarized as a probability of success for each pattern. For each pattern type, the probability is evaluated over the past 180 days with respect to the specific instrument and the times of day they were identified.
Statistics are accessible directly through the Autochartist website and through a link in the platform.
NOTE: past performance is not indicative of future performance.
DISCLAIMER