market-overview-in-saxoTraderGO-may-2016
Title: Market Overview in SaxoTraderGO
Page Content:
​The News & Research section of SaxoTraderGO on desktops and tablets now includes a comprehensive overview of global equity markets including:
Indices
Gainers and Losers
News
Calendar Events
Overview Chart.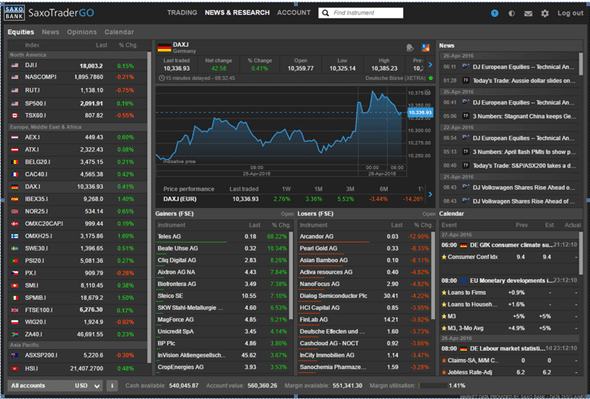 Indices Overview
Indices display the last traded value and intraday percentage.
Selecting an index from the list selects the overview chart, gainers and losers, news and calendar events from the exchange mapped to the index.
Gainers / Losers
The Gainers / Losers displays the 20 highest and 20 lowest performing stocks from the exchange mapped to that index. Note that Gainers / Losers are based on the entire exchange mapped to the index, not just the index constituents.
Context Menu
Click on an instrument in Gainers or Losers to access to a context menu to trade, open Equity Research (if subscribed), add a price alert or open the Overview for the instrument.
Overview Chart
The Overview chart offers a 24-hour (fixed) view of index, additional price information and performance data for 1W, 1M, 3M, 6M, 1Y, 2Y, 5Y.
Where available the selected index can be traded by clicking on the product icon to open the Trade Ticket for the instrument.
You can also add a price alert for the select instrument
News
News displays filtered news for the selected index based on the news subscriptions you have available.
Calendar Events
Calendar events displays upcoming events related to the selected index for the next five calendar days. Each event has a countdown associated with the expected release of the actual data. Once the countdown is reached, the counter will disappear and the data displayed.