Markets are awaiting the US response to the recent chemical attack alleged to be the work of Syrian government forces in Ghouta. The introduction of new sanctions against Syrian ally Russia, as well as expectations for further fallout, have pushed Russian asset prices lower across the board, reports Saxo Bank head of FX strategy John J Hardy.

"Geopolitical risk is always hard to price but we are seeing a continued spike in USDRUB with even Russian sovereign dept falling sharply," says Saxo's forex head.

Beyond the Syrian flashpoint, markets are waiting today's US CPI release and Federal Open Market Committee comments at 12:30 GMT and 18:00 GMT respectively. According to Hardy, the struggling greenback would need a significant upside surprise, particularly in the monthly reading, to escape its present stagnation.

US CPI expansion is forecasted to come in at 2% month-on-month and 2.1% year-on-year.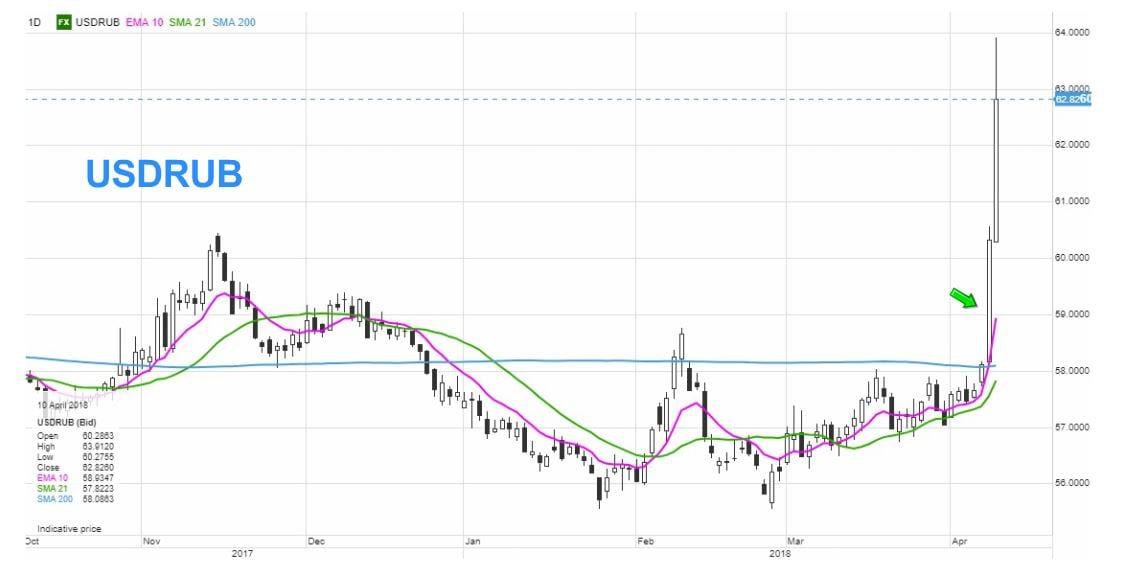 The euro is riding higher after European Central Bank governing council member Ewald Nowotny suggested that the bank could lift its deposit rate in order to get the normalisation ball rolling. The comments were quickly qualified by the ECB as solely representing Nowotny's individual view, but EURUSD is trading back around the 1.2373 level as of today's European open.

In the fixed income space, Saxo bonds specialist Althea Spinozzi reports that Nowotny's comments were not reflected by any appreciable move in German bunds while US 10-year Treasury yields remain around 2.8%, a level that Spinozzi expects to rise higher in the short- to medium-term.
You can access both of our platforms from a single Saxo account.