What is MiFID II?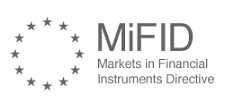 Changes are being made to a key piece of European law whose purpose is to protect you when you buy or invest in financial products. The Markets in Financial Instruments Directive (MiFID) is being updated and strengthened in some important areas and will be known as MiFID II.
MiFID is central to the regulation of financial markets in the European Union. It regulates the provision of investment services in financial instruments (such as shares, bonds, derivatives and various structured products) by banks and investment firms, and the operation of traditional stock exchanges and alternative trading venues. One of its core objectives is to ensure a high degree of harmonised protection for investors in financial instruments.
When does MiFID ii and MiFIR take effect?
MiFID II/MiFIR will apply from 3 January 2018. This new legislative framework will strengthen investor protection and improve the functioning of financial markets making them more efficient, resilient and transparent.
How are investors impacted?
The protection of investors is strengthened through the introduction of new requirements on; product governance & independent investment advice as well as improvements to requirements in several areas, including the responsibility of management bodies, inducements, information and reporting to clients, remuneration of staff, and best execution.
What Will It Mean In Practice
Clients will see many updates to the trading platforms they use, the reports they receive and disclosures regarding costs, risks and rewards of their chosen investment products.
How will the market structure be impacted?
MiFID II is a complex regulatory framework that will have an impact on many parts of investment businesses for the majority of market participants across multiple asset classes.
MiFID II and MiFIR will ensure fairer, safer and more efficient markets and facilitate greater transparency for all participants. New reporting requirements and tests will increase the amount of information available, and reduce the use of dark pools and OTC trading. The rules governing high-frequency-trading will impose a strict set of organisational requirements on investment firms and trading venues, and the provisions regulating the non-discriminatory access to central counterparties (CCPs), trading venues and benchmarks are designed to increase competition.
How is the investment firm impacted?
Transparency - Expansion of the pre and post-trade transparency requirements beyond shares to other instruments traded on a trading venue such as ETFs, derivatives and bonds.
Trading Obligations - For shares admitted to trading on a trading venue, MiFID investment firms must ensure trades take place on a regulated market (RM), a multilateral trading facility (MTF), organized trading facility (OTF), systematic internaliser (SI) or an equivalent third-country trading venue, with some limited exemptions.
For derivatives that are deemed subject to mandatory clearing under EMIR, over time an assessment will be made to determine whether such instruments should also be mandatory tradable on trading venues only.
Execution Quality - MiFID investment firms will now be required to report annually on the top 5 execution venues (in terms of trading volume) where they executed orders in the preceding year, including the proportion of aggressive, passive and direct orders for each class of financial instrument. In addition, execution quality data is to be published quarterly at an instrument level for each execution venue.
Transaction Reporting - Changes to the transaction reporting regime, including an expansion of products, client and transactional data fields (e.g. legal entity identifiers) alongside new rules governing firms' obligation to report. Introduction of reporting and position limits for commodities following the US rules applied by the CFTC.
Further industry debate is ongoing regarding many of the technical aspects in implementing the required measures and it is worth noting that the different National Competent Authorities may take different approaches to transposition of MiFID II.