Pre-trade costs disclosure
To comply with pre-trade cost disclosure requirements of MIFID II, we are introducing a new Trading Conditions component in the platforms which itemizes trading and holding costs for an instrument in detail.
Access to the Trading Condition
Trading conditions is closely integrated with trade components in the platform and can be accessed from:
Trade Tickets for the selected instrument by clicking the instrument information icon

right-click menus in all trade modules and other areas in the platform



You can also access the Trade Conditions under Account > Other > Trading Conditions
Costs
Costs associated with trading the selected instrument are itemized in the Costs section of the Trading Conditions.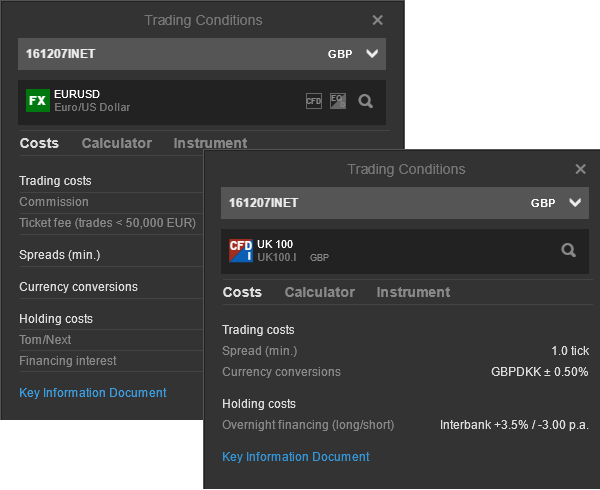 Costs are categorized into:
Trading costs – transaction costs associated with the buying or selling the instrument including commissions, spreads and currency conversion mark-ups.
Spread – for spread-traded products (FX, CFD indices, CFD commodities), showing the typical or minimum spread between the bid (sell) and ask (buy) price.
Holding costs – costs associated with holding the position for a period of time. Holding costs can include FX rollovers, custody fees (stocks and funds), carrying costs (futures, expiring CFDs and options), CFD overnight financing.
Key Information Documents (KIDs)
Where a KID is available for the selected instrument, the Cost section of the Trading Conditions also gives access to the KID through the Key Information Document link:
for PRIIPS products, this will be access to the PRIIPS KIIDs on our website
for exchange-traded products, this will be the manufacturers KID
KIDs are not available or required for stocks and bonds