New Account Section in SaxoTraderGO
New Account Section (Video)
A short introduction to the new Account Section.
New Account Section in SaxoTraderGO


We are happy to announce a completely redesigned Account Section will be launched in SaxoTraderGO from October 24. The new Account Section offers:
New Performance Overview
The new Performance Overview offers detailed analysis of P/L, % returns and the cash balance of selected accounts for a selected period.
New P/L and Cash Movement Tools
The new P/L Analysis tools allow you to analyze P/L, associated costs and bookings down to the product and instrument level in detail. Analyze your P/L by trading product, specific instruments or sectors, charting the cumulative P/L graphically or itemizing transactions associated with a product or instrument.
New Portfolio Summary
The new Portfolio Summary gives an overview of your current net holding and offers a historic view of your holdings at the end of a selected day.
The new Account Section introduces horizontal navigation aligned with the rest of the SaxoTraderGO platform. The simplified navigation reduces the number of Account Sections and maximizes the available space for reports.



Historic Reports
Historic Reports have been reorganized into tiles giving a better overview and description of the report.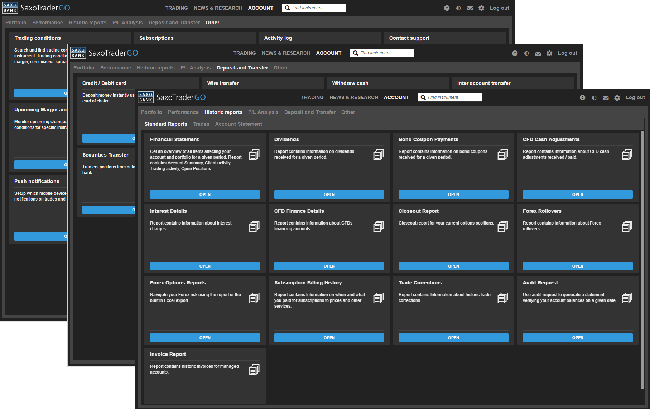 Deposit and Transfer
Transferring funds and withdrawing funds to and from your account, security transfers have also been organized into convenient tiles in the Deposit and Transfers section of the Account Section.
Other account functions
Trading Conditions, Subscriptions, Activity log, Contact Support Upcoming Margin and Collateral Changes, Mifid Status, Corporate action events have been moved under the Other menu and re-organized as tiles with a description of the service.